Description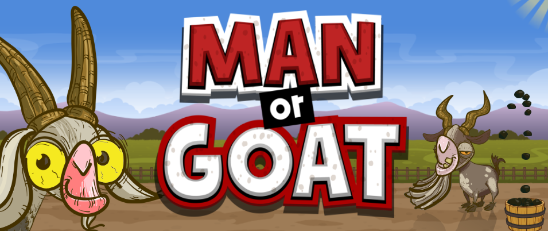 Listen to goat noises and decide if they're real goat noises or a man pretending to be a goat!
The developer spent weeks with his microphone recording goats at local country shows, farms and goat keepers. He also spent weeks recording goat impressions in his car!
He somehow turned these noises into an iOS game for iPhone, iPad and iPod.
---
"One of the few games at EGX this year that actually made me laugh out loud. To the point where I nearly fell off my tiny stool" - Pocket Gamer
"A hidden gem of ridiculousness! A genuinely fun experience!" - bytesizedtech.net
---
The gameplay
Man Or Goat includes 81 levels and 10 different game modes to unlock. The gameplay is casual and light-hearted at first but the challenge ramps up if you want to unlock all 81 levels and game modes. The faster you correctly answer MAN or GOAT the higher your score.
Some game modes put you under pressure to answer correctly and quickly. It's hard to get on the scoreboard on Hero Level 3 game mode. In Poo Bucket game mode you fill your bucket with goat poo as fast as you can.
In Beat The Shepherd game mode you are challenged by an angry goat shepherd to complete missions in the other nine game modes. He's a cruel mistress.
Game Center is fully supported with 18 leaderboards and 59 achievements. Local leaderboards are also included for players who want to beat their own scores.
Features
Speed run

To be the best at Man Or Goat you need to be fast. Answer as soon as you know if it's a man or a goat!

Catch goat poo in a bucket

Man Or Goat has a game mode called Poo Bucket; this involves catching goat poo in a bucket. You've probably never tried this in real life which just means you're normal.

Beat The Shepherd

You are challenged by an angry goat shepherd to complete missions in the other nine game modes. The shepherd won't make it easy for you and he's grumpy. He laughs when you fail and he complains when you win. Every now and then he'll give you a little bit of credit for your efforts.

Local leaderboards, achievements and Game Center

Beat your own scores or beat the world on Game Center; there are 18 different leaderboards. There are 59 achievements and 9 game modes to unlock. Game Center includes daily, weeky and all-time leaderboards.

972 unique goats

Each unique goat has its own unique noise and character design.

Ridiculous noises!

Goats make funny noises. Humans goat impressions are also rather funny. Probably the largest curated collection of goat noises in the world.

Lots of game modes

You start with Classic game mode with 81 levels. Soon you will unlock more game modes including the HERO game modes. These are really hard and require speedy goat noise deduction under pressure! The game caters for casual players who want to hear a goat noise to brighten their day and hardcore players who want to be the best.

High scores are rewarded

All the levels, game modes, goats and noises can be unlocked by speedily identifying the noises correctly and getting higher scores. The more quickly you answer MAN or GOAT the more highly you score.
History
After laughing at goat videos on YouTube Gareth thought it would be fun to make a game about goat noises.
Getting hold of quality goat noises was just the beginning. Months of development followed. Eventually the game took shape and hopefully people will find it fun to play.
Man Or Goat is the first game for Newtquest Games.
From The Developer - Gareth
1. I seem to have no shame

Me and my microphone spent the summer months visiting country shows, garden centers and local goat keepers recording goats.

At first I tried to do this by sneaking around with a hidden microphone, getting some very strange looks. Soon however I found honesty to be the best policy and I told people why I was recording the goat sounds, most people were very helpful.

I became a confident goat recorder with many goat keeping friends!

Eventually I had 1000 real goat noises; enough to create a game out of. Read about how Man Or Goat got started in my blog post

The Making Of Man Or Goat

.

2. Pseudoscientific research

I quickly discovered that goats don't just bleat, they make all sorts of strange noises. In the most scientific way possible, I gave each noise one of 25 different categories. These included categories like I'm About To Crash, Crying, It Tickles, Oooh I'm Scared and Too Polite To Scream


I recorded my goat impressions (category by category) in my car at supermarket car parks.

3. It was hard work

I created 972 unique goats for Man Or Goat. 972! I hired an artist to create 20 perfect goats and then hacked the individual goat parts into 972 mutant goats. I wrote a "Goat Editor" so I could move all the body parts around to create unique goats.

4. My friends and family don't treat me the same

They all think I'm obsessed with goats but I'm not. I'm sick of goats. But I am obsessed with Man Or Goat, if I wasn't I wouldn't have got this far. Unfortunately my friends don't understand the difference :

Whenever a goat is on the TV I get a text; "goats on BBC2".
I get plastic goat figurines as presents.
When I make visits they take me to goats they found in nearby fields.
Upon arrival I get greeted with goat impressions.
I get puns all the time. This really gets my goat.
I also get tagged a lot on Facebook when a new goat video goes around.

5. Game availability

Man Or Goat will be available for FREE for iPhone, iPod and iPad in May 2015. It's a universal app; the same app works on iPhone, iPod and iPad.

6. Why is Man Or Goat free?

I realised that to get Man Or Goat into the hands of as many people as possible the game needs to be free. All game modes and levels are unlockable through gameplay or as in-app purchase. Purchasing any in-app purchase will also remove the ads.

7. The noises of poo landing in the bucket

I recorded the noises of the poo landing in the bucket by dropping a wet towel into the bath at different heights. Honestly.
---
Videos
Fun and games with Man Or Goat at EGX 2015 - Leftfield Collection YouTube
Trailer YouTube
Recording The Goats at Country Shows YouTube
Rating The Noises - The Best Went Into The Game YouTube
How I Lost My Summer To 972 Goats YouTube
Gameplay - Beat The Shepherd YouTube
Gameplay - Speed Run YouTube
Gameplay - Poo Bucket YouTube
Leaderboard and Achievements YouTube
---
Images
download all screenshots & photos as .zip (53MB)
---
Logo & Icon
download logo files as .zip (1MB)
---
Selected Articles
"...made me laugh out loud...You're going to be laughing at other people laughing. And at the goat noises. And at the man noises. All of the noises are great to be honest."
- Harry Slater, Pocket Gamer
"...you'll love it believe me!...cracks me up when you think either wow a goat made that noise or – haha Gareth made that noise."
- Michelle, Techie Minx
"...I shared a moment with some co-workers today, and they couldn't stop laughing at the ridiculousness of Man or Goat...As I started to read more from the developer, I began to realize, this is just crazy enough to be huge."
- Kevin Steinike, Byte Sized Tech
---
Additional Links
[Blog post] The Making Of Man Or Goat - The Beginning
The story of how Man Or Goat started. It's a strange story.
newtquestgames.com.
[Blog post] Recording The Goat Noises And Picking The Best Ones
The story of how I recorded hundreds of goat noses and picked the best ones to be included in the game.
newtquestgames.com.
[Blog post] How I Outsourced Two Artists To Work On Man Or Goat
A detailed explanation about how I approached and worked with two artists to make the goat graphics, the user interface and logo.
newtquestgames.com.
[Blog post] How I Lost My Summer To 972 Goats
The story of how I lost my summer turning 20 high quality commissioned goats into 972 random goats. The stuff of developer nightmares!
newtquestgames.com.
[FAQ] Gameplay FAQ, Hints And Tips
Extra details about Man Or Goat and tips to help you beat your friends.
newtquestgames.com.
[PRESS RELEASE] Sept 10th 2015 : Beat The Shepherd
Man Or Goat Keeps Getting Stranger. New game mode. EGX show 2015.
manorgoat.com.
---
About Newtquest Games Limited
Boilerplate
Newtquest Games is the work of one man called Gareth who wants to bring something a bit different and fun to your devices.
More information
More information on Newtquest Games Limited, our logo & relevant media are available here.
---
---
presskit() by Rami Ismail (Vlambeer) - also thanks to these fine folks